ABOUT THE HOLY NAME SOCIETY
The Mater Christi Holy Name Society held its first meeting on February 9, 1951 and has been involved in the parish and community ever since.

The Holy Name Society meets monthly on the second Friday of each month from September through May in the Menarik Hall.

Meetings commence at 7:30 pm and are led by the President, supported by his executive board. We hear from our standing committee members and discuss new and continuing business during the general meeting. Any motions are brought before the membership for a vote during this time. Following the general meeting, we share a meal, often homemade. Our Vice President of Social and his crew prepare us delicious meals each month. Throughout the year, we may have guest speakers and members participate in our bags tournament with an ultimate team playoff in May.

In addition to our monthly meetings, we also gather to pray together at our monthly Mass always celebrated during the second weekend of the month.

If you haven't attended a general meeting, please join us. All men of the parish are encouraged to attend a monthly meeting and see what we're about. Bring a friend. If you like what you see, we are always looking for new members to share their talents and ideas and all are welcome.

The Mater Christi Holy Name is a vibrant organization with over 50 men attending our monthly meetings and many more supporters and past parishioners who receive our monthly newsletter. Although we are a small parish, Mater Christi has one of the largest Holy Name's in Chicagoland and we'd like to keep our membership robust by attracting new members.

The Holy Name is an active sponsor of the Cub Scouts and other youth endeavors. It sponsors many fundraisers within Mater Christi, including the parish annual block party in the summer, its Turkey Shoot in November, hospitality in December featuring pictures with Santa, the smoker in February, the Limited Raffle in May and the Golf Outing in June. It is involved in many other parish activities and works alongside the Women's Guild on many special events. It is also a supporter of the Society of St. Vincent de Paul and other ministries at Mater Christi.

------------------------------------------

2017-2018 OFFICERS

The Mater Christi Holy Name Society would like to announce the elected officers who will lead the organization in the 2017-2018 season.
John Bork - President
Ted Watylyk - Treasurer
Bill Quinn - Vice President - Membership
Adam Endriukaitis - Vice President - Social
Jason Griffin - Secretary
For information about the Holy Name Society contact the secretary Dr. Jason Griffin at holynamesociety@materchristichurch.com.

------------------------------------------
------------------------------------------
HOLY NAME SOCIETY TURKEY SHOOT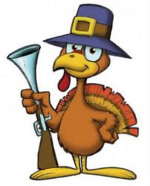 Sunday, November 19, 2017
from 11 am to 4 pm in the Menarik Hall
Turkeys will be raffled every 5 minutes!!!

Attention Parishioners, it's time for a turkey shoot! That's right, the annual Turkey Shoot will be held on Sunday, November 19 from 11 am to 4 pm in the Menarik Hall.

The meat booth features prasky, ham, and salami! The bakery booth is loaded with rye bread, pumpkin pie, houska and kolacky. The grocery booth will challenge any superstore in the area. Turkeys will be raffled off, one every 5 minutes. The offerings will include money making opportunities; pull tabs and 50/50 will be available.

Outstanding offerings from the kitchen include hot dogs, tamales, pumpkin pie slices, ice cream, soda, beer, wine, and free coffee. Foods to satisfy any appetite.

Start your tailgate party at the Turkey Shoot! You will not miss any NFL action with multi screen TVs. The Chicago Bears are playing The Detroit Lions at 12 noon.

Let's not forget the children. Games, prizes, raffles and activities will mean fun for all.

And you thought you had fun last year! Bring the family. Tell friends. Tell strangers. Come on out, we hope to see you there!

EARLY BIRD 50/50 - Holy Name Society members will be selling advanced 50/50 (Split-the-Pot) tickets after all masses on November 11 and 12. Tickets will be sold at a premium that weekend only. The 2017 Limited Edition Reusable Grocery Bag is FREE with every $5 purchase. The winning number from the combined sales will be drawn at the Turkey Shoot!

COLORING CONTEST - Children, a Turkey sheet to be colored is available in the vestibule of Church. Your colorful Turkey is to be returned to Church, or brought to the Turkey Shoot. They will be used to decorate Menarik Hall. A drawing will be held ot the Turkey Shoot at 3 pm and two prizes will be awarded. Winner need not be present.
------------------------------------------
HOLY NAME SOCIETY EXECUTIVE BOARD MEETING
Tuesday, November 28
at 7 pm in the Rectory
------------------------------------------
HOLY NAME SOCIETY GENERAL MEETING
Friday, December 8
at 7:30 pm in the Menarik Hall - Doors open at 7 pm
HOPE TO SEE YOU THERE!
------------------------------------------
HOLY NAME SOCIETY MASS AND MEMBERSHIP BREAKFAST
Sunday, December 10
at 9:30 am in Church
Hospitality follows in the Marian Room
ATTENTION ALL MEN OF THE PARISH!


Please feel free to contact the rectory for any question you may have at 708-442-5611 and 708-442-5612
"Let us not grow weary of doing good." (Galatians 6:9)

© 2006 Mater Christi Parish - All Rights Reserved