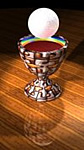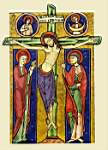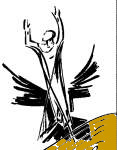 ______________________________________________________
LENTEN MASS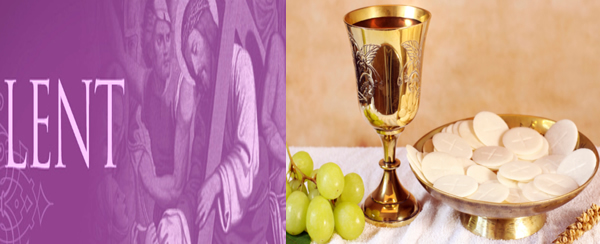 Thursdays during Lent - February 15, 22 and March 1, 8, 15, 22
at 6:30 pm in Church
COME AND WORSHIP!
______________________________________________________
LENTEN STATIONS OF THE CROSS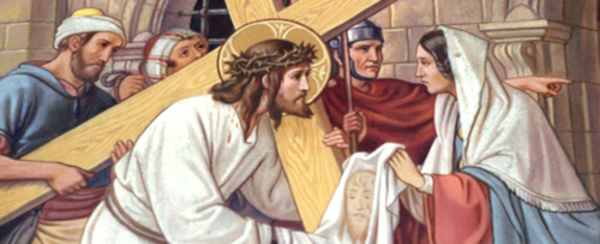 Fridays during Lent - February 16, 23 and March 2, 9, 16, 23
at 7 pm in Church
COME AND PRAY!
______________________________________________________
LENTEN ADULT STUDY SERIES

Father Cy's Lenten Adult Study Series will begin on
Tuesday, February 20 at 7 pm in the School Library.
The subject matter will be:
"The Prophet Amos: visionary or prophet of doom?"
Sessions will continue on the following 4 Tuesdays of Lent.
Participants are asked to bring their Bibles.
Please call the rectory at 708-442-5611 for more information.
JOIN US AND LEARN!
______________________________________________________
EUCHARISTIC ADORATION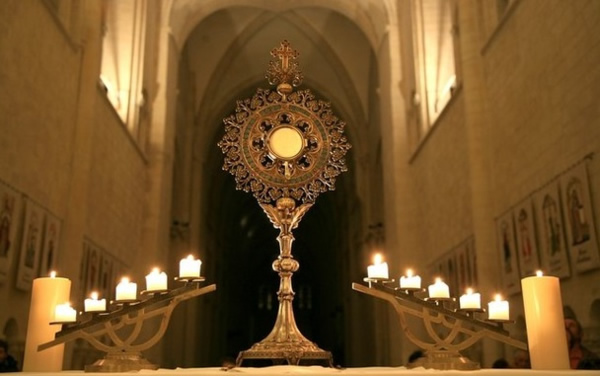 Every Monday from 6 to 8 pm in Church
EVERYONE IS INVITED!
______________________________________________________
MATER CHRISTI PARISH MISSION

LITURGY 101
It has been some time since we had a parish mission. And so, this year we will take time on a weekend during lent to reflect on how we pray together. We will refresh our appreciation for Liturgical prayer. We will renew our dedication to the quality of our Liturgical prayer. We will remember the words of Jesus: "Where two or three of you are gathered in my name, I am with you." And, "Do this in memory of me.", spoken during the giving of the bread and wine at the Last Supper. We have each had wonderful experiences of good liturgy. We have each had bad experiences of poor liturgy. What makes the difference? What helps the prayer happen at good or poor liturgy? Mark your calendar for Mission time.
SATURDAY, MARCH 10 AND SUNDAY, MARCH 11
Mission talk during the Homily at all masses
SUNDAY, MARCH 11 AND MONDAY, MARCH 12
Mission Service at 7pm
Presenter - Father Bill Stenzel - Father Bill Stenzel was ordained for the Archdiocese of Chicago on May 14, 1975. He is a native of Chicago's South Side. Father Stenzel is a Graduate of St. Leo School, Leo High School, Illinois Institute of Technology, and Mundelein Seminary. Father Stenzel's assignments include Associate Pastor at St. Victor, St. Linus, and St. Helena of the Cross and Pastor at Holy Rosary, St. Francis Xavier, St. Bede the Venerable, and St. Mary of Celle. He was the Administrator at St. Salomea, St. John, Glenwood, and Mater Christi. In addition to parish ministry, he has ministered to persons and families affected by the Disease of Addiction and conducted workshops for ministers and parishes on Addiction Issues. Currently, Father Stenzel is a Guest Speaker at GUEST HOUSE Treatment Center for Men and Women in ministry who suffer from Addiction Disease.

More Information in regards to the Parish Mission to follow in the coming weeks.
______________________________________________________
LENTEN REGULATIONS

Abstinence from meat is to be observed by all Catholics 14 years of age and older
on Ash Wednesday and on all Fridays in Lent.
Fasting is to be observed on Ash Wednesday and on Good Friday
by all Catholics who are 18 years of age but not yet 59 years of age.
Those who are bound by this may take only one full meatless meal.
Two smaller meatless meals are permitted if necessary
to maintain strength according to one's needs,
but eating solid foods between meals is not permitted.
The special Paschal fast and abstinence are prescribed for
Good Friday and encouraged for Holy Saturday.
______________________________________________________
REGULAR LITURGY SCHEDULE
If you are interested in enrolling in the Mother of Mothers Shrine,
please call or stop by the rectory during normal business hours.
Monday thru Saturday at 8:00 AM
Holy Days at 8:00 AM and 7:00 PM
Saturdays (Mass of Anticipation) at 5:00 PM
Sundays at 8:00 AM, 9:30 AM and 11:00 AM
RECONCILIATION

The Sacrament of Reconciliation is offered
Every Saturday of the month from 4:15 till 4:40 PM.
You can always call and make an appointment for Reconciliation.
A Reconciliation Service is also scheduled during the seasons of Advent and Lent.
ROSARY
The Rosary is said every Monday through Friday at 7:30 am in the Church.
COME PRAY WITH US!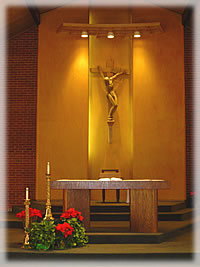 Please feel free to contact the rectory for any question you may have at 708-442-5611 and 708-442-5612
"Let us not grow weary of doing good." (Galatians 6:9)

© 2006 Mater Christi Parish - All Rights Reserved