RENEW MY CHURCH - ARCHDIOCESE OF CHICAGO
DOCUMENTATION, INFORMATION AND RESOURCES

-------------------------------------------------------
-------------------------------------------------------
OUR PARISH GROUPING
Parish groupings will afford the opportunity to begin to look at how parishes
might work together, support one another, and share personnel, programs and ministries.

Our grouping has been identified as: St. Mary, St. Hugh and St. Pius parishes.

-------------------------------------------------------

-------------------------------------------------------
FROM OUR PASTOR - BULLETIN NOVEMBER 20, 2016
I would like to start off this article by thanking Stephen Piszczor and all those who worked on the Turkey Shoot. I assume it was an amazing success having written this article before the event. I would also like to thank our choirs as we approach the Feast of St. Cecilia. As we celebrate Christ the King, we as priests have been asked to talk about the Renew My Church initiative. "Throughout this year, the evangelist Luke has been teaching us how to live our life in Christ with hope. It is the hope found in the stories of those who are lost and abandoned, whom Christ has searched out and brought home to safety. It is the story of the prodigal son, the man left for dead rescued by the Good Samaritan, the beggar Lazarus and today the Good Thief. As Pope Francis has reminded us in the Jubilee of Mercy, these are our stories and when we remember that, not only do we open ourselves in humility to the mercy of God, but we also allow God to create space in our lives to treat with compassion and mercy the poor, the abandoned, the forgotten and the marginalized – all people who are just like us, lost. The message is clear. The hope we receive in being found by the Lord, we are to give to others by searching them out and bringing them home to safety. That in a nutshell is our mission, the mission of the Church. Renew My Church, is inspired by the encounter St. Francis had with Jesus as he prayed before the famous San Damiano Cross. It is at that moment that St. Francis heard Jesus say to him: "Rebuild My Church."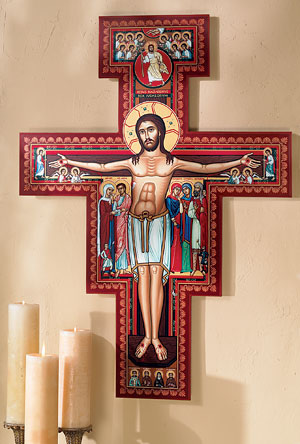 We notice first in the San Damiano Cross that, unlike most crucifixes, Jesus in this scene, while near death, is still alive and speaking. It is a reminder that taking up the mission in every age is Christ's work, not ours, and discipleship will therefore always involve a dying, a leaving behind of old patterns and pathways that have made us comfortable and even complacent. There will be dying in this process of Renew My Church, particularly as we move beyond a view of Church that is defined only by my parish, or my needs, to one that includes the good of the entire Archdiocese of Chicago. This should not leave us afraid, for the one calling us to become more intentional as disciples and to take up this work is Christ himself, the one who conquered death.
Secondly, in the scene of the San Damiano Cross, Jesus has united around himself not only Mary and his beloved disciple, but people of all backgrounds and people from the time of St. Francis. It is a reminder that one outcome that will help us measure the success of Renew My Church is how it leaves us more united as a Church – united across racial, political, ethnic and social lines. Similarly, it is a challenge to make sure that no one feels left behind but all are included.
Finally, in the San Damiano Cross, we see that above the dying Christ is a scene of the Resurrection. This is the promise held out to us, which will encourage us and prompt a spirit of sacrifice that will be needed for working together. Yes, there is a cost for discipleship. Yes, there will be dying, but death will not have the last word. All of this puts into perspective how Renew My Church has the potential of having an historic and transformative impact on each of our lives and the entire Church – the kind of transformation that the Resurrection of Jesus brought to the entire world. Much like the Good Thief pleading to the dying Christ for new life, we too are invited to trust that he is at our side and on our side. Just like the Good Thief who seemed to be destined to be with Christ at that particular moment, we too are living in a graced moment in history, invited to take up the mission of Christ with greater vigor as intentional disciples who can make a difference for the future.
Like his namesake, St. Francis, the Holy Father is listening to Christ and his call to renew the Church today. He is asking us to do the same. He is inviting us to take up this work, undaunted by the challenges, even those that will require our dying, but ever hopeful that by staying together unity in our common discipleship, we will be a stronger, more vibrant and life-giving Church, one that we as adults will be proud to hand on to our children and future generations. This is our mission. This is why we have been baptized. This is the mission of the Church."
May God bless you and all the people of Mater Christi today and always.
-------------------------------------------------------
FROM OUR PASTOR - BULLETIN OCTOBER 9, 2016
I went to a meeting recently about the Renew My Church Initiative for the Archdiocese of Chicago. The initiative is at its core about vitality. One aspect of the meeting pertained to Pope Francis and his line that the parish is a family of families. I am sure that we all have different examples where Mater Christi has shown itself to be a family. If not I hope that we can remedy that in the near future.
This family aspect in way of Renew My Church centers on what makes families great. I am sure we all have different things that we love about our family or families of which we are familiar. These aspects strengthen our parish community, archdiocese church and world. Let us continue our commitment to be a family or families.
In this commitment let it inspire ideas of greatness so that greatness might be united to vitality. If you have any suggestions about continuing our vitality please let me know.
May God's blessing be upon you and all Mater Christi this week and always.
-------------------------------------------------------
FROM OUR PASTOR - BULLETIN SEPTEMBER 25, 2016
We have already started the To Teach Who Christ Is Campaign here at Mater Christi. The campaign is designed to help with the education of Catholics around the Archdiocese of Chicago. We have been asked to donate $365,000 dollars in the next five years. From that amount we will keep $219,000 for use around Mater Christi. This is a lofty goal, but I think we can come close if not exceed it. If we do exceed the goal we will keep all the money raised beyond $365,000 dollars.
You will hear more about the campaign in the future weeks. The other initiative Renew My Church is continuing. There was a meeting with parish council members around our cluster or grouping to talk about the grouping. I will also be sending a letter to Bishop Manz, which is due on the 30th. If you have any ideas about the grouping for the letter please let me know.
In both initiatives there are questions about what will happen to Mater Christi. The answer is a firm I don't know. The Renew My Church initiative does not have a list of parishes to stay open or closed. This has been repeated at meetings as well. It is my understanding that they look at many aspects of the church before the decision is made: Sunday Mass attendance, infrastructure, and debt. I am sure there are others but those are the main ones that come to mind.
In terms of those aspects, one that we can immediately do something about is Mass attendance. October is the month that we count churchgoers. Please make an effort to come to Mass and during the month of October make an extra effort.
May God's blessing be upon you and all Mater Christi this week and always.
-------------------------------------------------------
FROM OUR PASTOR - BULLETIN JULY 31, 2016
I would like to thank all those that have offered comments about the Renew My Church Campaign and the groupings. What I learned from the comments is that we think that St. Mary in Riverside should be part of the grouping. It seems that we at Mater Christi are similar to those at St. Mary. I have also learned that there is a historical context with Mater Christi and St. Mary. Thank you for all the comments. I will let Bishop Manz know what we were thinking about the groupings.
-------------------------------------------------------
A PRAYER FOR "RENEW MY CHURCH"
Lord Jesus, you speak to us today, as you spoke to holy men and women who have gone before us. In every age and in our own time, you call to us and say: Renew My Church.

Pour out the gift of your Holy Spirit upon us, and so enable us to hear you clearly, to listen to each other attentively, to imagine our future boldly, to discern your direction wisely, to persevere in your holy will courageously, to stay together in charity, to surrender our own plans readily, to embrace the greater good, to hand on your gifts to future generations.

May we remain in the holy company of the Blessed Virgin Mary, the apostles, and all the saints. May their example and presence inspire us with patient confidence in the work of your grace.

We ask this of you who live and reign with the Father in the unity of the Holy Spirit, one God, forever and ever. Amen


Please feel free to contact the rectory for any question you may have at 708-442-5611 and 708-442-5612
"Let us not grow weary of doing good." (Galatians 6:9)

© 2006 Mater Christi Parish - All Rights Reserved