» To "Parish" Events for Parish Opportunities

VOCATION
Are you willing to stay with Jesus and with others through difficult times?

Pray for the strength to endure hardships. - Matthew 27: 11-54

If you think God is calling you to be a priest, visit our website at www.ChicagoPriest.com or contact Fr. Francis Bitterman at fbitterman@archchicago.org or at 312-534-8298.

For information on religious life contact Sr. Elyse Ramirez, OP at 312-534-5240 or eramirez@archchicago.org, and for the Permanent Diaconate program contact Deacon Bob Puhala at 847-837-4564 or bpuhula@usml.edu.

ACTIVE SENIOR EXPO - July 26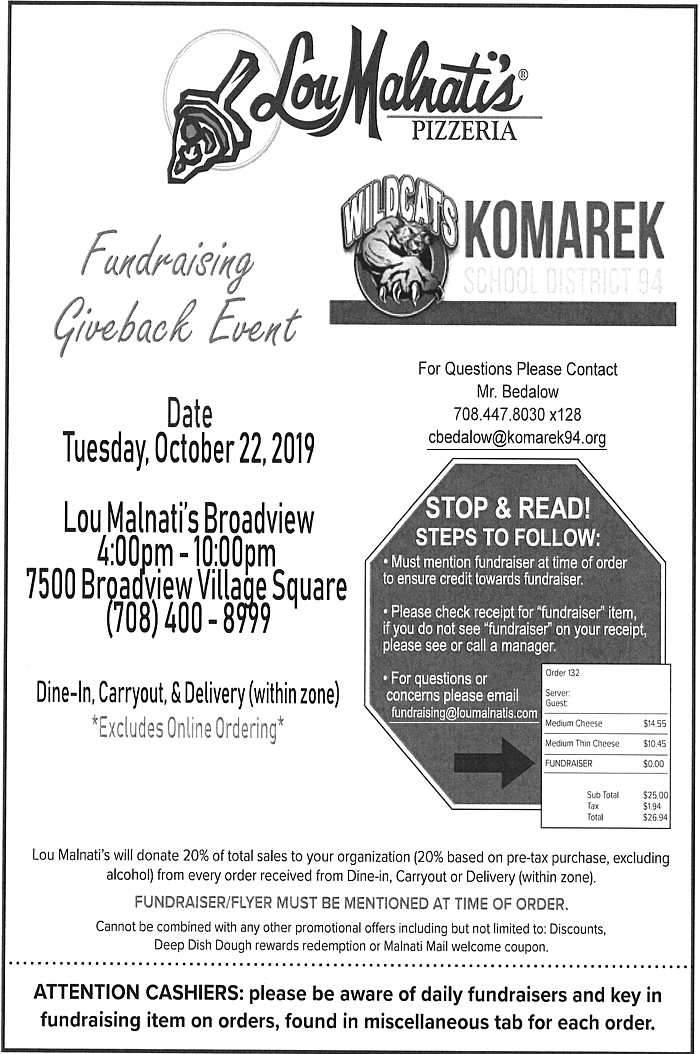 All seniors in the parish are invited to attend
Active Senior Expo at no charge (regular admission is $2).
The event will be held on Wednesday, July 26
at the William Tell Holiday Inn located at 6201 Joliet Road in Countryside.
Active Senior Expo features hundreds of products and services for seniors,
free seminars, free health screenings, free musical entertainment and free door prizes.
Show hours are from 9:30 am to 2 pm, and parking is free.
Simply present this bulletin (or a photocopy) at the door
and you and all members of your party will be admitted free of charge.
Website - http://www.activeseniorexpo.net/schedule.php

ANNUAL NOTRE DAME FOOTBALL RAFFLE - Ongoing until August 20

CATHOLIC CHARITIES FREE NEWSPAPER FOR SENIORS - Ongoing Event
Did you know Catholic Charities has a free newspaper just for senior citizens?

Keenager News is published 10 times a year and is delivered to your door. This publications contains news, opinion, human interest, how-to, and travel articles, along with humor, puzzles, and recipes. Our "Readers' Corner" provides a forum for readers' own reminiscences, and poems.

To sign up to receive Keenager News, call at (312) 655-7425 or email keenager@catholiccharities.net.

JOYFUL AGAIN WIDOWED MINISTRY RETREAT - July 22-23 and August 12-13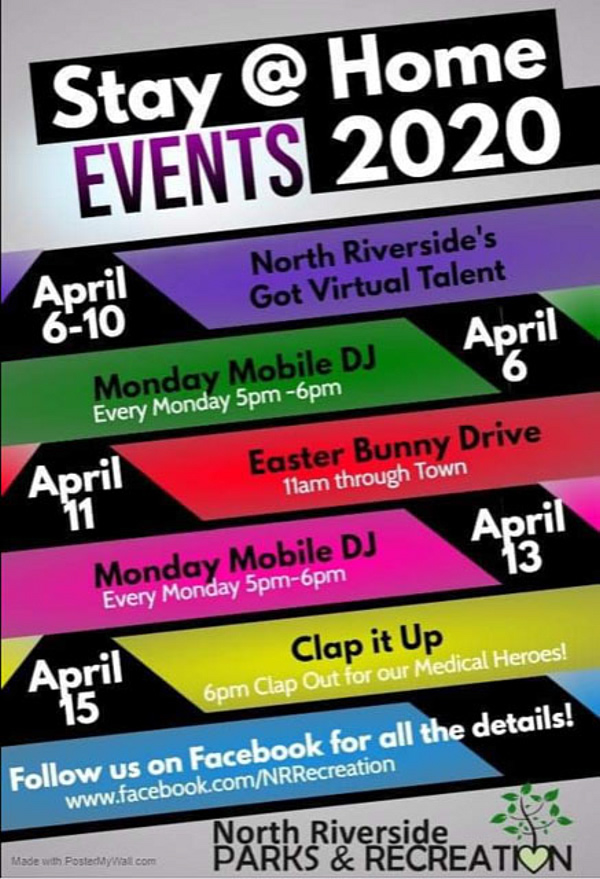 SHRED DAY AND FOOD DRIVE - August 12
Access Credit Union has teamed up with Mater Christi Catholic Church in North Riverside, IL to help prevent identity theft and to help feed the hungry in our community.

Access is hosting a Shred Day/Food Drive in their parking lot at their Broadview branch, located at 1807 W. Cermak Rd., on Saturday, August 12 from 10 am to 12 Noon. Access Credit Union invites everyone to bring two banker's-size boxes of unwanted personal documents, such as old account statements, cancelled checks, and old tax documents.

Mater Christi Catholic Church will receive all food items donated at the Shred Day/Food Drive. You don't need to bank at Access to participate, but you should bring some cans or boxes of non-perishable food items to donate.

For more information you may call Mater Christi Catholic Church at (708) 442-5611 or call Access Credit Union at (708) 343-0228.

ANNUAL FALL ASSEMBLY BREAKFAST WITH ARCHBISHOP - October 21

MERCY HOME MENTORING PROGRAM - Ongoing Request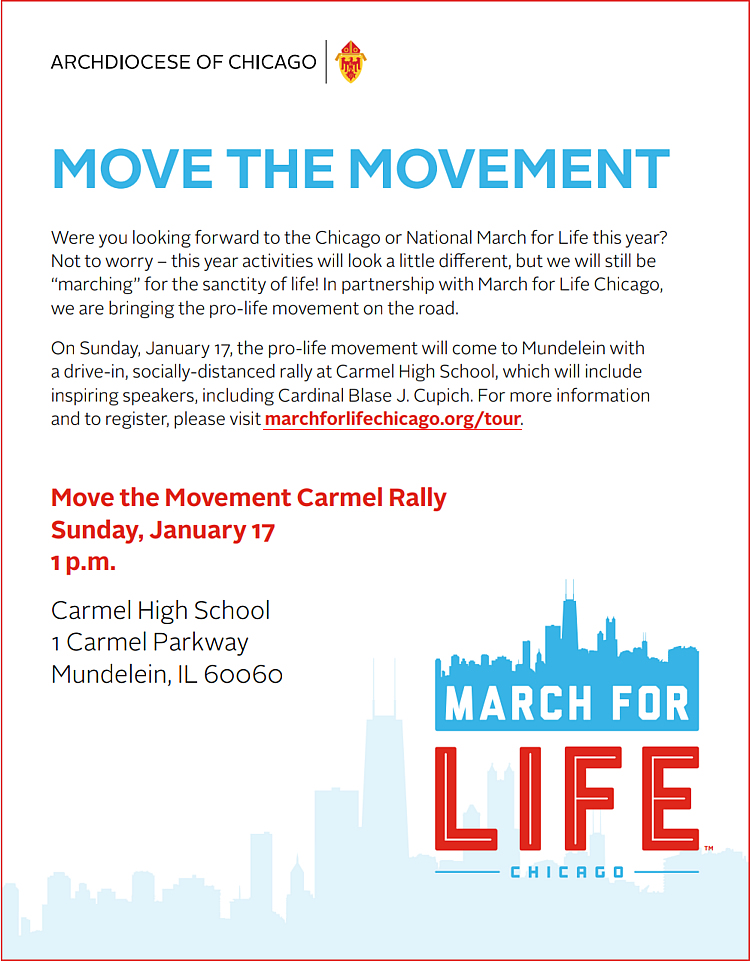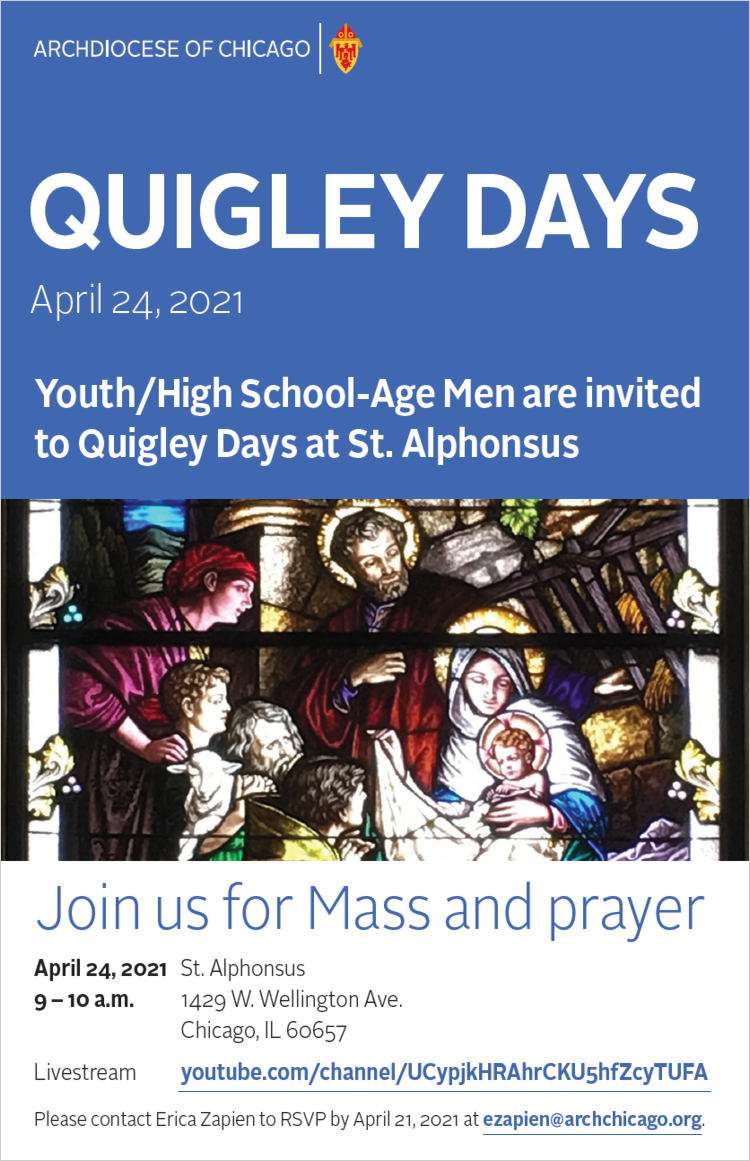 SHARE FOOD - SHARE LOVE - FOOD PANTRY - Ongoing Event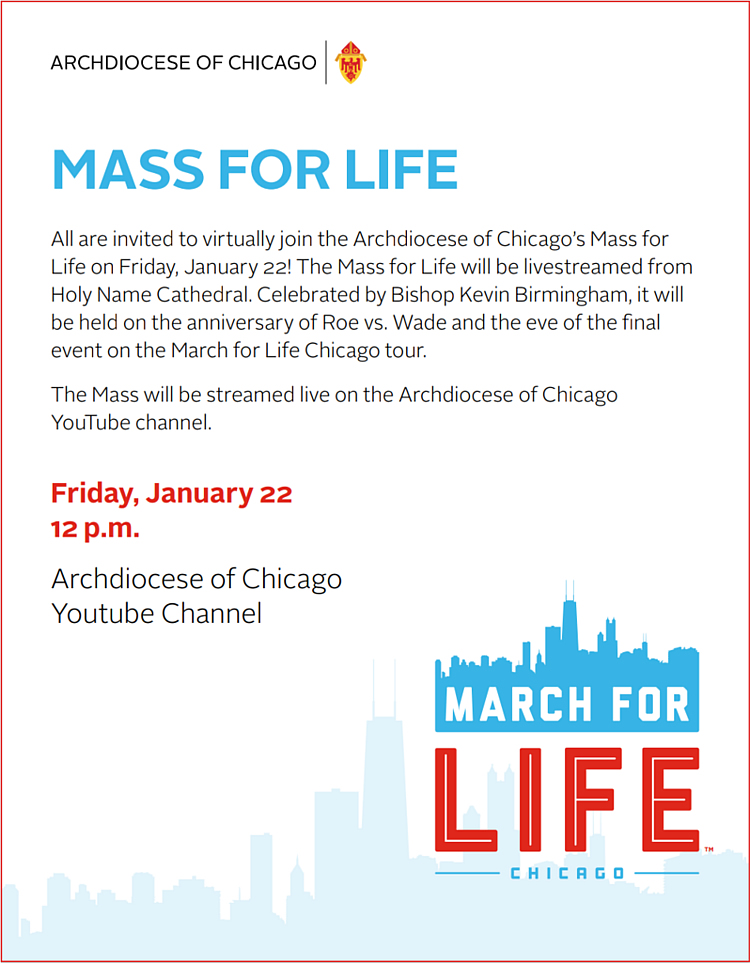 CATHOLIC CHARITIES VOLUNTEER OPPORTUNITIES - Ongoing Event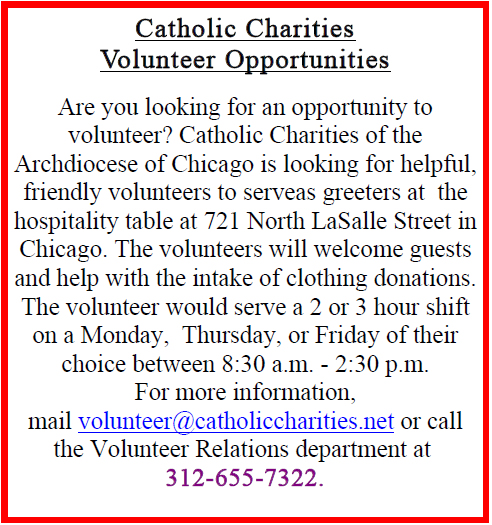 AGING CARE CONNECTIONS - SENIOR LUNCH TIME - Monday through Friday

POOR HANDMAIDS OF JESUS CHRIST VOLUNTEER PROGRAM - Ongoing Request
The Poor Handmaids of Jesus Christ Volunteer Program seeks single, Catholic women 21+ years of age to give long-term volunteer service of 3- 12 months sharing faith community and serving alongside Sisters in a wide variety of ministries.

Contact Sr. Connie Bach, PHJC at connie.ss@att.net or visit phjcvolprogram.org.

GOLDEN AGERS - 1st and 3rd Wednesdays
This ALL NEW club is now open to residents and non-residents ages 60 and up who want to meet new people and have fun. The group meets the 1st and 3rd Wednesdays of each month in the North Riverside Village Commons.

Activities throughout the year include bingo, lunch, speakers, entertainment and more!

For information, call Mildred Decosola at 447-4432.

LOOKING FOR VOLUNTEERS AT THE FOOD PANTRY
The West Suburban Food Pantry at Catholic Charities in Cicero is looking for volunteers to help in their food pantry. Volunteers will be asked to help unload food deliveries, bag food and greet individuals and families.

Available days and times: Mondays and Tuesdays from 9 to 11 am and from 12 Noon to 2 pm, Wednesdays from 9 am t0 4 pm and Thursdays from 2 to 7 pm.

For more information please contact Esmeralda at 708-329-4022 or Maricela at 708-329-4023.

IGNATIAN VOLUNTEER CORPS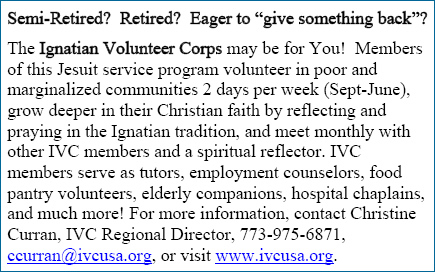 SPRED - Religious Formation for the Developmentally Disabled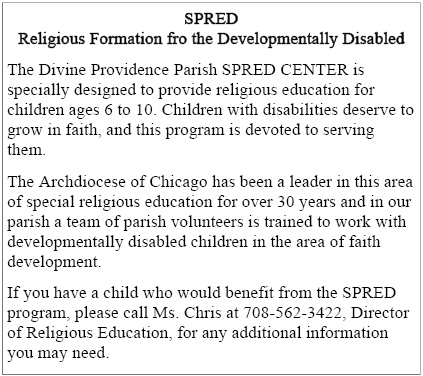 TELEVISED SUNDAY MASS - Every Sunday

CONSTANCE MORRIS HOUSE
Does your relationship make you feel...alone? Confused? Threatened? Disrespected? Hurt? Sad? Mad? Controlled? Abused?

You are not alone. Reach out for help. Constance Morris House is here to help. We provide free shelter services, counseling for women and children, support groups, medical care and legal advocacy. We never charge for our services.

Call our 24-hour Crisis Line at 708-485-5254 to talk to our staff about how we can help.

Volunteer at The British Home


COUNSELING SERVICE AT ST. BERNARDINE IN FOREST PARK
Ms. Margaret Lukomski, an experienced and licensed professional therapist, is available to assist people with emotional problems, marital and family difficulties and other personal issues. Ms. Lukomski, LCPC is also a certified alcohol and drug counselor. She will be at St. Bernardine Church one afternoon and evening per week; fees for her services are reasonable. To schedule an appointment just call Catholic Charities' Holbrook Counseling Center at 312-655-7725.

PROFESSIONAL COUNSELING
IS AS NEAR AS SAINT JOHN OF THE CROSS PARISH IN WESTERN SPRINGS!

If you or a family member is having difficulty dealing with the complex and stressful world in which we live, The Holbrook Center of Catholic Charities can help. Whether your concern is personal, relational or career-related, the Center offers professional assistance that is confidential, convenient and cost-effective. Our professional counseling services are provided by Ms. Jeanne Petruzzelli, LCSW and Mr. Patrick Cunningham, LCPC. Both Jeanne and Pat have many years of counseling experience and they are looking forward to assisting you.

The Holbrook Center also provides services at other suburban locations and in the City of Chicago. For further information or to make an appt. please call at 312-655-7700 and ask for The Holbrook Center.

Relevant Radio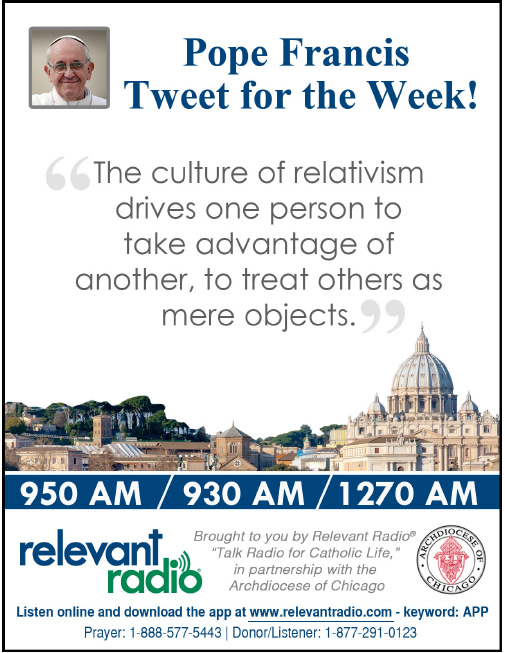 Please feel free to contact the rectory for any question you may have at 708-442-5611 and 708-442-5612
"Let us not grow weary of doing good." (Galatians 6:9)

© 2006 Mater Christi Parish - All Rights Reserved